"Whether I'm stepping onto the podium in concert and rehearsal, or making my entrance on stage in a production, the sight of James MacDonald, at the ready with bass up and bow in hand, makes me breath a sigh of relief. I know that great music will be made, and fun will be had, no matter the surrounding circumstances." – Cailin Marcel Manson
"Jamie MacDonald is my favorite bass player to play with. He has great ears, great feel and the ability to play "in" or "out". I don't run across many musicians, let alone a rhythm section partner, who frees me up to play what I hear and feel and is able to respond and support in a very creative way . It takes many hours of listening and practice to develop these skills and to have the courage to play with this type of conviction and openess. I feel very blessed to know and play with Jamie, a musician who has so much integrity, love and passion in his music." – Doug Raneri
"Jamie MacDonald is such a solid musician, one who is supportive yet strong, swinging yet versatile, and as a person he is wonderfully sweet and salty.  He really understands the art of accompanying a singer as well.  I always look forward to getting the chance to play music with him, or just hang." Peter Eldridge, New York Voices
"It is always a pleasure to play a gig with you. Whoever finds themselves in that situation can expect to be treated to a very musical experience with thoughtful, supportive accompaniment and playful improvisation. It always feels like sharing a conversation with someone who has interesting things to say."  – Charlie Schneeweis
"Jamie MacDonald is a bass player I can rely on, In almost a decade that I know him, he always swung hard and had great imagination in his solos,my man for the road!  Not only being a great musician,also as a teacher he has a great sense of what students need at a certain level and gives them all he has got to give,anytime!  I always enjoy playing with him,if it's a concert or a workshop accompanying singers or instrumentalists,he's inspiring. Last but not least, It is always fun to be around Jamie,laughing allowed!" Helmut Kagerer
"On a friend's recommendation, I decided to take voice lessons from Jamie. At first I was a little confused how a bassist was going to
teach me how to sing jazz. But, after a few minutes of our first lesson together, I realized something I hadn't previously considered:
in addition to teaching me how to be a good jazz singer, Jamie was going to teach me how to be a good musician  During our first lesson, I began to understand essential music theory in a way that my previous voice teachers never addressed. After one hour, I learned how to transpose charts, recognize chords and scales, and warm up like a musician.
Jamie Macdonald comes from a long line of educators. He is connected to the greats… in a very real way, he's part of a deep and important legacy. Jazz developed because of mentoring relationships like his and being one of his students helps me feel like I am part of something bigger… like I am part of this legacy too.
I often feel like Jamie believes in his students more than his students believe in themselves. Musically, I am no exception. I often struggle and more often than not, I feel frustrated with my abilities. Jamie believes in me and he believes in the process. I have seen his other students succeed and I know that at one time, they were struggling, like me. Because I believe in him and I believe in the process, I, too, can believe in myself."  – Anushka Peres
I have participated in jazz ensembles coached by Jamie MacDonald for about 4 years.  The result is my jazz drumming has improved greatly. He is a competent musician and teacher.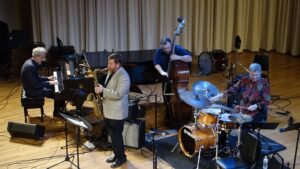 As a jazz ensemble teacher, Jamie totally knows his stuff.  He is steeped in the jazz world, as well as being comfortable and competent in other musical genres.  He is great at helping us develop a variety of styles and interesting arrangements.  He is organized, clear, versatile and empathic.  And funny.  He chooses great music for us;  I have loved virtually everything he has chosen, while at the same time the music is appropriate to his goals for each group.  He is a great bass player, but also knows the ins and outs of the other instruments.  I love coming to his classes because he is so interesting and informative.
"When Jamie plays with us, I can be assured that the bass section will be solidly grounded which invariably solidifies the entire orchestra." —Mark Ferguson, director The Sinfonietta in Wilton, NH
"Jamie's that very rare person who is both a wonderful teacher and a talented musician, arranger & performer. As an ensemble teacher, he has an uncanny ability to match the right people together, push the students beyond their comfort zones, while staying positive & encouraging, and keeping it interesting & fun. His encyclopedic knowledge of music and his talent as a musician and educator make him a valuable asset to our local community. We're very fortunate in that respect."  Bahman Mahdavi
"Jamie Macdonald is an outstanding musician and music educator. His commitment to the learning process is such that students regardless of age can expect to receive an excellent education." Draa Hobbs
Jamie MacDonald is a born teacher. And what's more, he can teach to any level. He truly meets students where they are at, no matter their age or experience. That in itself is unusual. It is particularly unusual in an artist who is also such a gifted player. The two rarely go together. It's inspiring to watch him. He's kind of a miracle-maker and he really DOES 'make musicians every day."  –Patti Frankel
"Jamie is an exemplary teacher!  He knows how to assess his students' strengths and weakness and help them make that crucial 'next step' to a higher level.  He's always challenging his students to ascend to progressively higher levels of proficiency and creative expression."  (I won't mention that every other time, or so, that I play I want to check out eBay to see what I can get for my horns!  – JBF)
¨Jamie was the first music teacher that ever helped me understand what it means to be a musician and not just a singer.  His passion for music and teaching as well as his dedication to his student´s learning process make him an invaluable teacher.  I learned more in one semester with Jamie than in several years of study with other teachers.¨ Cara Tresize
"I've played the Fender bass professionally for 40 years and other than some basic lessons when I was a young teen I am completely self taught. Recently I decided to try my hands on the the upright bass. It was something I wanted to do for 20 years but frankly the thing intimidated me. Needless to say once I made the plunge I learned very quickly that this was not an endeavour you can have much success w/ alone. As I was thinking about a bass teacher for myself I kept coming back to Jaime, someone I knew to be dedicated and easy to get along with so I made the plunge. It became clear within minutes during my first lesson that I had made the right choice. He began guiding me through the process of acclimating myself correctly w/ the instrument, explaining his teaching method, what we were doing and why, being very attentive to what I was absorbing and what I was not, and sharing anecdotes that both informed and put me at ease. I am a HS teacher duirng the day, and a musician at night, so I recognize a great teacher when I see one. Jaime is not only a great talent on bass, he has the rare gift of being a natural teacher w/ an abundance of knowledge that he shares easily and willingly. I look forward to continuing w/ him as i explore this new instrument." Doug Morton
"My abilities as an improvisor have grown since I've been taking Jamie's classes.  He's a great player and teacher who loves to share his knowledge and love of jazz with all his students.  Whenever I've gotten frustrated with my own playing, Jamie has always been right there with friendly words of encouragement and a pat on the back if needed.  I can't recommend him more highly as a teacher."
"The first time I met Jamie was also the first time I ventured out to sing in a jam session. Most of my experience was limited to a room with a closed door. I was terrified and dry-mouthed. He was compassionate, friendly, and assured me that he and the other musicians were "singer friendly," …and when the more experienced musicians played a little over my head, he slowed them down in a way that was non-embarrassing for me. I had never had the courage to sign up for any of the classes until after that first session. It was Jamie's early encouragement and enthusiasm that gave me the confidence to later attend improv and ear training classes, and a full one hour session — one-on-one — with master musician Harvey Diamond. Last Fall, I attended the twelve week "Lady Day" sessions with Jamie and Kate. There were five of us, all ages, styles and personalities. It was a blast! Besides teaching about vocal nuances and performance techniques, Jamie displayed a rare talent for finding the place where our self-assurance waivered and knew how, with good humor and gentleness, to nudge us to try the next level.
That first encounter with Jamie was at least five years ago. Who knows what I would have done with my singing had it been a discouraging or intimidating experience. I could have canned the whole thing, but instead I've moved forward and am a regular in a local jazz trio. Oh, did I mention? I'm … over 60. Let's leave it at that. Jamie has helped me to realize a life-long dream! With much love and admiration,Patti Smith"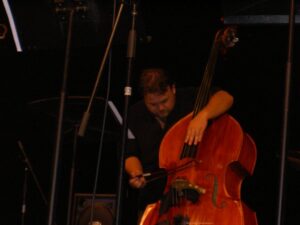 "I don't know which is deeper:  Jamie's love of jazz, love of instructing or love of playing.  I do know, though, from my position as a student of his, that he frequently pushes me hard and his expectations are high, but that he knows when to let up.  He also knows when the occasional word of encouragement is called for.  In short, he reads me better than I read myself.  Could you want any more than that in a teacher?" Denis Bassett